Vega's Story
We first heard about Vega through a long time client and friend, Barb. She told us that a friend of hers (Jamie) was trying to save her from being euthanized.
This is the initial facebook post and call for help, from Jamie, followed by a special letter where he tells us of his journey in bringing Vega to us.
Vegas Hope

It started with my girlfriend Melinda who is presently employed as a veterinary assistant at a well-known animal hospital in the GTA.
She came home, upset one day, with photos on her phone, of a dog who's owners were planning to euthanize her because she had bitten a few people. Her name is Vega and she's only 4 years old. All bites were minor nips or warning bites, but the last one required a 12-year-old girl to get three stitches. The owners didn't want to deal with her anymore (not that they had dealt with her already) and they didn't want a lawsuit on their hands from another incident like that.
She came home quite upset about this, but was able to postpone the euthanization for a couple of weeks to see if she could fined Vega a new home. This task proved much harder then anticipated, with only a few leads amounting to nothing. As the time came near to euthanize her, I couldn't handle my girlfriend being so upset about this, and didn't believe she deserved to be put down; all due to the negligence of her owners. I don't believe the owners trained her or even gave her enough love and time that she required as a puppy. Her development was hindered, leaving her scared and lonely. All Vega's biting incidents could all be considered fear bites, as opposed to aggressive bites; however, because of this no humane society would take her. Of all of the 10 – 15 humane societies I called only one considered taking her, and then backed out last minute. I was posting on breeders pages and blogs, animal and dog groups, facebook pages/groups. Lots of great information and feedback was provided, but not enough to find Vega a home. To my surprise even some recommended dog rehabilitators refused to help her because she had already bitten. This kind of makes me question why they're in that industry to begin with… and then I remembered, it's for the money-- which unfortunately is what many people get into the animal business for. Not because they care, but because they see $$$. For the last weeks of Vega's life, and probably much of her life she was kept in a home office with no external stimuli-- no nature, no people and no other animals.
Through the help of a friend, Barbara, I got the name of a person that used to provide her with a dog walking service and who was also presently rehabilitating her own dog. I contacted Sonny and explained the situation. He was very interested in helping Vega; however he had an extremely aggressive case coming up that he had to focus on and wouldn't be able to take Vega for a month or so. At this point (2 days before the euthanization) Melinda tried to convince Vega's owners that we had found an amazing dog rehabilitator that would take her, but that they would have to wait another month. We were hoping they would see the positive future for their dog and deal with her for one last month. They refused and said if we didn't find somewhere to take her by Saturday (1 day away), she would be brought in and put to sleep as it was already scheduled to be done. It's amazing what some people will do for a creature they know nothing about, and it's also amazing that some people (family members and supposed loved ones) will NOT do for their own animals. These people should have not been allowed to get a dog and should not be allowed to ever get another dog again.
After calling back The Humane Society and other rehabilitators, begging for them to take Vega and give her another chance in life I was ready to give up. Then I thought about Sonny again and remembered that I could sense a strong caring and compassionate voice. I gave it a shot, almost begging him to take her and he accepted. Melinda was able to cancel the euthanization and convince the owners to let us take her to Sonny. The owners did thank us, but I'm not convinced they were sincere-- considering they wouldn't even meet us, and we had to drive out to pick her up. With the help of Barbara, who had connected me with Sonny, we picked her up (muzzle on) in the back of a pick up and took her into our care. We drove over 2 hours out of town to meet Sonny, who was going to bring her into his home, rehabilitate her, and only adopt her out if the proper owner came along-- if not, he agreed to keep her at his farm with the rest of his pack where she would live a long, healthy and happy life.
We arrived Sunday afternoon, the sun was shining and we met the amazing Sonny. Within an hour, Vega's muzzle was off, she was leash-free, and showed not a single sign of aggression. She was happy and smiling for probably the first time in her life at age 4… Thank you Sonny.
After speaking with Jamie and finding out that nobody was willing to help her, we simply could not let Vega's fate be determined by owners' who were giving up on her. The timing may not have been ideal for us, as we are currently working with a couple of other strong aggression cases, but we made room for her. Vega would be in good hands and be surrounded by a solid pack of balanced dogs.
Thankfully, after assessing Vega with The Pack, it was clear that this dog was extremely misunderstood. It really only took days for her to become comfortable and express who she really is- a balanced dog, who was no doubt, surrounded by the wrong energies. She had no exercise, was about 25 lbs overweight, and definitely had people approach her in the wrong way. A very tight prong collar was also creating a lot of frustration.
Barb was so instrumental in saving Vega. She also requested to adopt her, and Hunter would become a permanent member in our pack. I couldn't think of a more perfect match, as Vega is much more compatible with Barb and Nick's (her partner) lifestyle. It's true when they say that things work out in the end, cause Barb and Vega came into eachothers' lives at just the right time.
After a few short weeks, Barb, Nick and Vega were ready to be united for a long lasting relationship, that will be complete with love and balance.
Here's a look at Vega's time with us: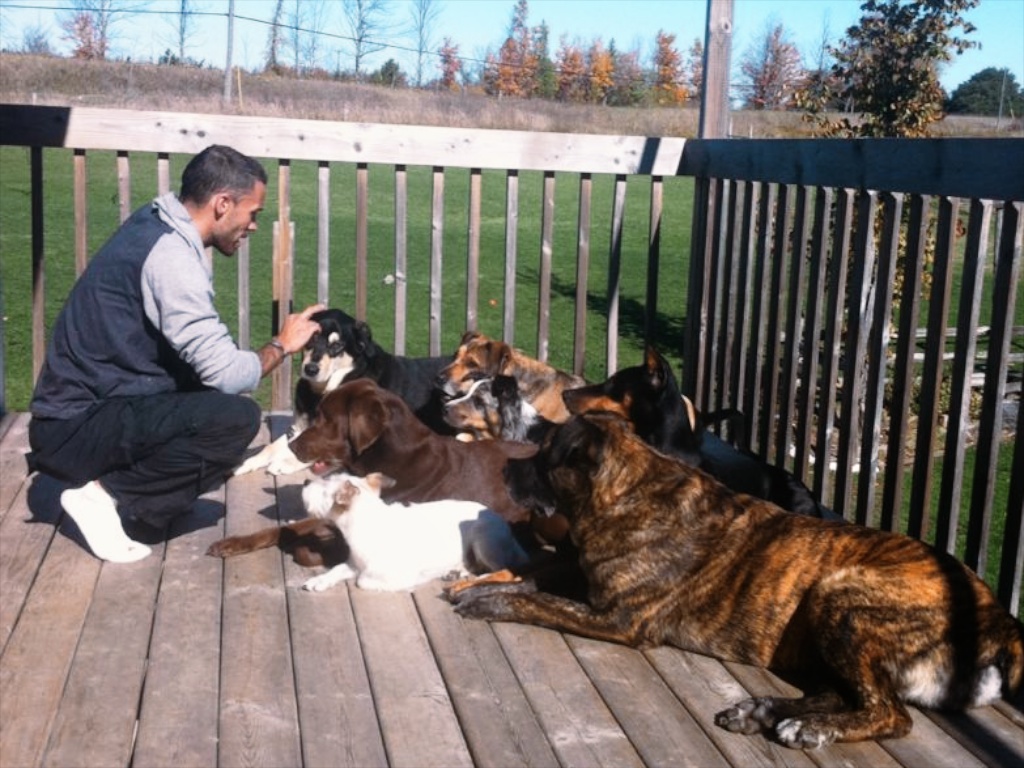 Vega is now in her forever home, and we could not have asked for a happier ending.
We here at Dog Talk believe that no dog is too far gone to be helped, or too old to be rehabilitated. I always say, "never underestimate the power of the pack".
We have strong hopes that shelters will soon change their policies, and stop turning away dogs, because they "believe" they are aggressive. Let's also please remember that aggression is the outcome of a problem. The fate of dogs should not be decided upon assumption- especially since these dogs are simply misunderstood. We need to make correct evaluations and start thinking differently.

We'll keep you posted on Vega's story, and how she adjusts to her new life in the city. Also, stay with us for updates on Mackie and some other cases we will introduce.